For Those About to Rock. The story of Rodrigo y Gabriela
Synopsis
This is the story of Rodrigo Sánchez and Gabriela Quintero, two Mexicans who at a very early age decided to take the risk to pursue their dreams to live from what they loved the most: music.
The combination of their adventurous spirits, a lot of hard work and a little bit of luck, took them from performing at anonymous hotels and restaurants in Ixtapa, in their native Mexico, to -just a few years afterwards-, playing their acoustic guitars on the stages of the most important venues and festivals around the world.
"For Those About to Rock" narrates their amazing and inspiring journey, which teaches its viewers that is possible to live one's wildest dreams.
Credits
Director: Alejandro Franco
Executive Producer: Alejandro Franco, Eduardo Montes, Adolfo Franco, Vidal Cantú
Producer: Alejandro Franco Fernández,
Screenwriter: Alejandro Franco Fernández
Cinematographer: Rubén Márquez
Editor: Rubén Márquez
Sound Designer: Quetzalcóatl Ortega
Music: Rodrigo y Gabriela
Additional Credits: Post-production Supervisor: Tlacateotl Mata, Production Manager: Mariana Mackinney Fuenlabrada, Music Supervisor: Lynn Fainchtein Steider
Principal Cast: Rodrigo Sánchez, Gabriela Quintero, Zoë Conway, Alex Skolnick, Rob Trujillo, Al Di Meola, Shenkar, Peter Gabriel, Carles Benavent, Damien Rice
Director Bio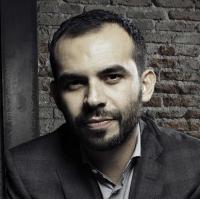 Alejandro Franco is a Mexican music journalist with multiple participations on radio, TV and press. He's a very well known figure in LATAM Music Industry. He has produced and hosted several shows, such as: SesioneS con Alejandro Franco, Sesiones Off Season, Warp TV, Backstage 40 and WFM . 'For Those About to Rock' is his first documentary.
Contact
Distributor: Eduardo Montes
Public Film Contact
Eduardo Montes
Sentido Común
montes@sentido.com.mx
(+5255) 5280-0243
Still