Yearbook
Synopsis
A man is hired to compile the definitive history of human existence before the planet blows up.
Credits
Director: Bernardo Britto
Producer: Brett Potter, Lucas Leyva, Ben Cohen
Screenwriter: Bernardo Britto
Sound Designer: Otto von Schirach and Nayib Estefan
Music: Matthew Cooper
Additional Credits: Artist: Alexa Haas, Animation Assistant: Alex Beekman
Director Bio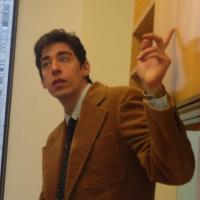 Bernardo Britto was born in Rio de Janeiro and graduated from NYU. He co-directed the feature film "Nothing Yet" and received the NBR Animation Grant in 2011. He was selected as a 2012 Marcie Bloom fellow. In 2013 his animated short The Places Where We lived premiered at SXSW and went on to win the Grand Jury Prize for Animation at AFI Fest.
Contact
Public Film Contact
Brett Potter
Calavera USA
bp@calaverausa.com
347.560.9832
Still