Notes on Blindness
Synopsis
In 1983 writer and theologian John Hull went blind. He began keeping an audio diary to make sense of his loss. With exclusive access to these original audio recordings, "Notes on Blindness" is a cinematic documentary encompassing dreams, memory and imaginative life, excavating the interior world of blindness.
Credits
Director: Peter Middleton, James Spinney
Executive Producer: Jason Spingarn-Koff, Mike Brett, Steve Jamison
Producer: Jo Jo Ellison, Peter Middleton, Jen Kerrison
Cinematographer: Gerry Floyd, James Blann
Editor: Peter Middleton, James Spinney
Production Designer: Damien Creagh
Sound Designer: Joakim Sundström
Music: James Ewers, Michael Murray
Principal Cast: Rafe Beckley, Celia Henebury, Stanley Pemberton-Warbrick
Director Bio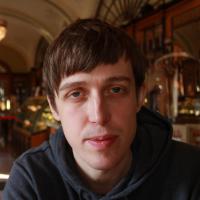 Peter Middleton & James Spinney are a young, award-winning directorial team with an impressive track record in short films, music videos and commercials. 'Notes on Blindness: Rainfall' won the Best Short Film Award at Hot Docs 2013 and their short 'Wavelengths' (supported by Film London) won Best Film at the 2012 Short Cuts Film Festival.
Contact
Public Film Contact
Peter Middleton
Archer's Mark
pete@intodarkness.co.uk
447912204989
Still