Yakona
Synopsis
"Yakona" is a visual experience through the crystal clear waters of the San Marcos River and its headwaters at Spring Lake. Follow the river on an impressionistic journey from its point of view as it flows from source to sea, through the changing seasons, through time and memory. Experience its relationship with the natural world and its interactions with humankind. Through "Yakona", the voice of the river calls on humanity's higher nature, inspiring its protection by revealing its beauty and life-giving spirit.
SXSW Eco Recommendation
Credits
Director: Anlo Sepulveda, Paul Collins
Producer: Jillian Hall, Kevin Huffaker, Clint McCrocklin
Cinematographer: Paul Collins, Anlo Sepulveda
Editor: Tim Tsai
Sound Designer: Justin Hennard
Music: Justin Sherburn
Additional Credits: Costume Design: Jessica Quiroga, Colorist / Online Editor / Titles: Daniel Stuyck, Associate Producers: Riley Engemoen, Dean Brennan, Samuel Trim, Chris Perez, Kelly Lipscomb, Underwater Camera and Photography: Anlo Sepulveda, Paul Collins, Dean Brennan, Riley Engemoen, Jennifer Idol, Assistant Editors: Riley Engemoen, Mike Melindi
Principal Cast: Tony Two Hawks Molina, Geoff Marslett, Tina Rodriguez, Jacqueline Claire, Anis Mojgani
Director Bio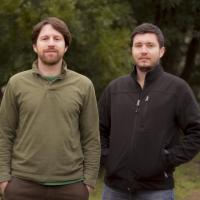 Anlo Sepulveda and Paul Collins are Texas based filmmakers who entered the scene with Sepulveda's directorial debut, Otis Under Sky, at SXSW 2011, which Collins co-produced. Inspired by the beauty of the San Marcos River and pure cinema films such as "The Qatsi Trilogy" and "Baraka", they came together to create "Yakona".
Contact
Public Film Contact
Sylvia Desrochers
Big Time PR and Marketing
sylvia@bigtime-pr.com
off. 424-208-3496 cell.213-840-2309
Still