Heartbreak
Synopsis
In a local diner, two friends meet to discuss relationship woes. After pouring out his heart, deception occurs when one friend learns that the other is dating his recent ex.
Credits
Director: Eric Stern
Producer: Matthew Thomas,
Screenwriter: Eric Stern, Matthew Thomas
Cinematographer: Eric Stern
Editor: Eric Stern
Sound Designer: Jordan Smelley
Additional Credits: David McAlister: William Heidarian, Daniel Guerrero: Matt Ornstein
Principal Cast: Kyle Matthew, Matthew Thomas, Shelby Conine
Director Bio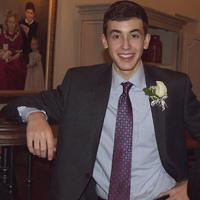 Eric Stern is a student filmmaker attending the Episcopal School of Dallas. He has been making shorts since his sophomore year in high school.
Contact
Distributor: Eric Stern
Public Film Contact
Eric Stern
stern880@gmail.com
2148024015
Still