Lydia
Synopsis
The ghost of a young girl, killed tragically by locomotive, haunts the railroad on which she died. A mysterious stranger encounters this ghost and reveals his unresolved ties with her.
Credits
Director: Logan Evans
Executive Producer: Jeremy Upchurch, Dr. Linda Anderson
Producer: Logan Evans,
Screenwriter: Logan Evans
Cinematographer: Logan Evans
Editor: Logan Evans
Principal Cast: Brynley Elizabeth, Ryan Christopher, Scott Evans
Director Bio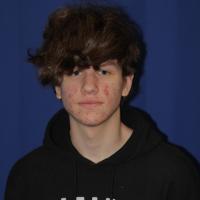 Logan is a junior at Richland High School in North Richland Hills, studying video in Advanced Video Production. "Lydia" is his first short film.
Contact
Public Film Contact
Logan Evans
StudioB
817-547-3800
Still