A Wrong Note
Synopsis
In the moments leading up to an important performance, a pianist named Harold is visited backstage by a former lover who bears news that could potentially cause his life to spiral out of control, and put his ability to perform in jeopardy.
Credits
Director: Josh Leftwich
Producer: Kenneth Rogers,
Screenwriter: Josh Leftwich
Cinematographer: Josh Leftwich
Editor: Josh Leftwich
Music: Kevin MacLeod
Additional Credits: Boom: Ezra Hankin, Lighting: Tafari Robertson, Lighting: Alexander Tzaperas
Principal Cast: Seth Smalley, Meg Wilimont
Director Bio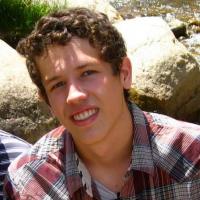 Josh Leftwich is a 3rd year film student at McCallum High School. He has made films independently since the 3rd grade. Besides filmmaking, he is an accomplished pianist, saxophonist, and cross country runner. He is currently participating in the Boy Scouts of America and working towards his Eagle.
Contact
Public Film Contact
Josh Leftwich
AV Club Productions
mrjoshleft@gmail.com
512-751-0399
Still