Evolution
Synopsis
In "Evolution", hand drawn animations of animal swirl and morph from one form to another in conjunction with mouth made sound effects and experimental ambient vibes.
Credits
Director: Alexia Salingaros, Sophia Salingaros
Executive Producer: Carol Parker-Mittal, Will Underwood
Editor: Clayton McCracken
Music: Michael Quinn Garza
Additional Credits: Digital Artist: Connor Ardman, Digital Artist: Amu Karla, Digital Artist: Paarth Koushik, Digital Artist: Isabella Meador, Digital Artist: Cole Patterson
Director Bio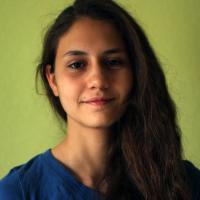 Alexia and Sophia are sisters and fellow artists attending Saint Mary's Hall in San Antonio. Alexia has been making films for the past four years and also composes music. Sophia participates in several different art forms including ballet an classical Indian dance.
Still