Through the Hawthorn
Synopsis
Sam has stopped taking his medication - he still doesn't think he is ill. His mother found him swimming naked in a freezing river in the middle of the night. The doctor thinks Sam should try a different medication. Three directors follow one of the characters through their experience of the session in a triptych exploring three very different senses of reality.
Credits
Director: Anna Benner, Pia Borg, Gemma Burditt
Producer: Anna Benner, D R Hood, likely story
Screenwriter: D R Hood
Editor: Jo Ann Kaplan
Sound Designer: Jessica Marlowe
Additional Credits: animation: Gemma Burditt, Pia Borg, Anna Benner, Sergei Shabarov, Jenny Lewis, Duncan Gist, Steven Nanson, Marin Matsuo, Eddy Kastin, Tiff Howick, Helena Patay, Jimmy Cliftlands, Sajan Rai, Asya Lukin, Amelia Borg, Kim Noce
Principal Cast: Dominic Cannon, Louise Breckon-Richards, Mike Sarne
Director Bio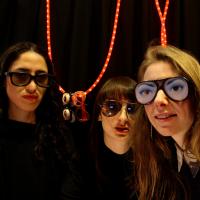 Anna Benner, Pia Borg and Gemma Burditt are directors living and working in
London. Their award winning work stretches across multiple disciplines
and techniques including traditional and digital elements. Through the Hawthorn is their first collaboration.
Contact
Public Film Contact
Anna Benner, Pia Borg, Gemma Burditt
Likely Story
throughthehawthorn@gmail.com
+447906955009
Still