Queenie
Synopsis
Intricately handmade from paper and cardboard, this stop-motion animated tragicomedy follows Danny, a university Geography tutor, as he and his students stray from the syllabus in order to break new academic ground. After managing only to break some homewares, Danny is forced to confront the true nature of his project.
Credits
Director: Paul Neason
Executive Producer: Michelle Savill
Producer: Melissa Donald,
Screenwriter: Sam Burt, Jeremy Liss
Cinematographer: Toby Donald
Editor: Toby Donald
Production Designer: Paul Neason
Sound Designer: Richard Falkner
Music: Richard Falkner
Additional Credits: Associate Producer: Michelle Savill, Animator: Paul Neason, Steffen Kreft, Art Director: Paul Neason, Art Department: Heather Hayward, Lighting Director: Matt Henley
Principal Cast: Aaron Cortesi, Erin Banks, Jack Sergent-Shadbolt, Rose Young, Heather Hayward, Jean Sergent, Kathryn Akuhata-Brown
Director Bio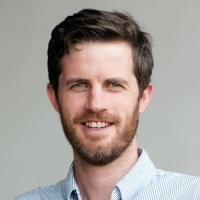 Paul Neason was born in the deep south of New Zealand and now co-runs a boutique animation and video studio, National Park, in Wellington, the nation's capital. He studied Classics at the University of Otago, Graphic Design at Massey University in Wellington, but is mostly self-taught at animation.
Contact
Public Film Contact
Melissa Donald
National Park
melissa@national-park.co.nz
Still