Sandra Kolstad - "Run Away"
Synopsis
Sandra wakes up in the middle of abandoned and pale eerie fields, to find herself unconscious about a big and bloody wound on her chest. A screaming affliction that locks her in the state of gloom. Through a clinical and sharp performance, she conveys that she wants to run away. Sandra then takes us on a ride of escapism through nature and water.
Credits
Director: Yenni Lee
Producer: Yenni Lee,
Screenwriter: Yenni Lee
Cinematographer: Pål Ulvik Rokseth
Editor: Yenni Lee
Music: Sandra Kolstad
Additional Credits: Production manager: Tonje Berg Pettersen: 1st Assistant Director: Michael Behrens, Key Grip: Espen Zubi: Makeup Artist: Christine Varden, SFX Makeup: Magnus Kjellsen: Choreographer: Camilla Tellefsen, Stylist: Eirik Lyster: Production assistant: Kaisa Milch, Focus Puller: Wencke Hovet: Camera assistant: Thea Hvistendahl
Principal Cast: Sandra Kolstad, Lone Berg, Ane Elen Holbø, Marianne Lindbeck, Nina Martine Eckbo, Nora Victoria Eriksen
Director Bio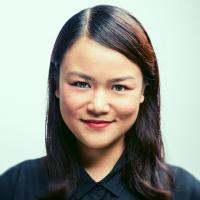 Yenni Lee (1985) is a film and music video director from Norway. She is highly influenced by music, science, functions of the human brain and constructions of technology. Her universe is usually visually blue with futuristic/science fictional elements.
Lee is currently residing in Berlin where she creates her future projects.
Contact
Public Film Contact
Yenni Lee
Yenni Film
post@yennilee.com
Still