Crystal
Synopsis
Crystal is 17 with a bad attitude. She's seen every Britney Spears video 100 times and knows the dances by heart. Unfortunately her small town life lacks the sparkle of a music video and her only escape is the dance-filled dreamscape in her head. When one of these reality-dips results in disaster on the job, she is fired and heads out of town on foot - curses and dances abounding.
After a run-in with local mean girls, she accepts a ride from an average white man whose intentions remain unclear to our heroine. Crystal keeps her hard exterior up and as their journey takes a turn from light-hearted to less so, the real and surreal worlds blend together in a way she is ill-equipped to handle.
Credits
Director: Chell Stephen
Executive Producer: Chell Stephen, Jennifer Stephen
Producer: Bryan Parker, Chi Pilon
Screenwriter: Chell Stephen
Cinematographer: Gregg Conde
Editor: Sam Winter
Production Designer: Alice Tang
Sound Designer: Mike Jurasits
Music: Elijah Ocean & human
Additional Credits: Color Grading: Offsite Color, Hair & Make-Up: Caitlin Allen & Jennifer Stephen, Steadicam Operator: Derek Barnes, Additional Editors: Nikita Burdein & Chell Stephen, Post Pyromaniac: David Hohusen
Principal Cast: Kate Stephen, Lars Classington, Jonathan Brent, Melissa Hazel, Sandi Globerman
Director Bio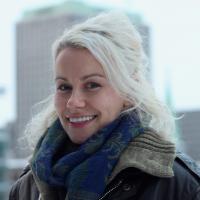 Chell Stephen grew up feasting on music videos and teen dance movies in Toronto, Canada. Today she resides in Brooklyn, directing music videos as part of the filmmaking collective Think/Feel. Crystal is Chell's first narrative film.
Contact
Public Film Contact
Chell Stephen
Think/Feel
chell@thinkfeel.tv
207.271.1775
Still