The Kármán Line
Synopsis
A mother is hit by an unusual condition and begins to rise gradually into the air.
An ambitious short starring double-BAFTA winner Olivia Colman ("Tyrannosaur", "Iron Lady", "Hot Fuzz", "Peep Show") and Shaun Dooley ("The Woman in Black", "Misfits", "Eden Lake"), shot by Robbie Ryan ("Fish Tank", "Philomena") and directed by Oscar Sharp, currently a Fulbright & BAFTA scholar at NYU's Graduate Film programme.
Credits
Director: Oscar Sharp
Executive Producer: Chris Collins - British Film Insititute, Phil Barnes - Believe Media
Producer: Tiernan Hanby, Cambell Beaton, Max McGill
Screenwriter: Dawn King
Cinematographer: Robbie Ryan
Editor: Claudia Wass, Alex Berry, Ellie Johnson
Production Designer: Jerry Bland
Sound Designer: Joe Marsden
Music: Bjarni Biering Margeirsson
Principal Cast: Olivia Colman, Shaun Dooley, Chelsea Corfield, David Cann, Julia Watson
Director Bio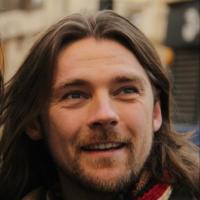 Oscar Sharp has received both the biggest short prizes in Britain, and others from the likes of Joss Whedon and Guillermo del Toro. Accepted to the graduate programs of AFI, Columbia and NYU, he chose NYU – and was awarded BAFTA LA's top scholarship and a Fulbright.
Contact
Public Film Contact
Oscar Sharp
MrOscar@gmail.com
Still