Baby Mary
Synopsis
An eight-year-old girl living on the west side of Chicago finds a neglected toddler and decides to take her home.
Credits
Director: Kris Swanberg
Executive Producer: Dave Klink
Producer: Jacqueline "JJ" Ingram, Annie Gomberg
Screenwriter: Kris Swanberg
Cinematographer: Mike Gibisser
Editor: David Lowery
Production Designer: Sarah Sharpe
Sound Designer: Gunnar Jebsen
Principal Cast: Takiyah Dixon, Anyla Mabry
Director Bio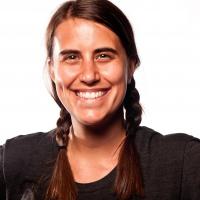 Kris Swanberg is a writer/director based in Chicago, Illinois. She has directed the features It was great, but I was ready to come home (2009) and Empire Builder (2012), Kris just completed her latest short film Baby Mary (2013) and is in pre-production on her third feature film.
Contact
Public Film Contact
Kris Swanberg
krisswanberg@gmail.com
312.479.7990
Still