Sleepover LA
Synopsis
When an innocent tourist travels to LA to put her sister's ashes to rest, time begins to blur and the past and present collide. A series of unexpected events take place overnight at The Standard hotel, Taylor relives her sister Jessica's last night alive, opening her eyes to an entire world she never knew existed. Comprised of a bold score by composer Mark degli Antoni, stylized dance and an eccentric cast, "Sleepover LA" weaves a dark and luminous film that revamps traditional narrative. This is the first collaboration between director Lily Baldwin and producer Nicole Disson, both co-stars in the film. "Sleepover LA" poses this question: How much can change in one night?
Credits
Director: Lily Baldwin
Producer: Nicole Disson,
Screenwriter: Lily Baldwin, Andrea Claire Maio
Cinematographer: Austin Rhodes
Editor: Lily Baldwin, Alex Lee Moyer
Production Designer: Sonja Kroop
Sound Designer: Kent Sparling
Music: Mark degli Antoni
Additional Credits: Additional Editing: Alex Lee Moyer, Assistant Editor: Alex Bushe, Colorist: Sal Maltifano // The Mill, Costume Designer: Katie Casey, Featured Music Track: Room 8
Principal Cast: Nicole Disson, Lily Baldwin, Ebe Sievwright, Vivian Bang
Director Bio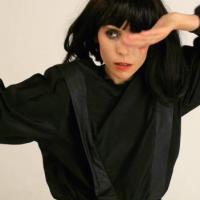 Baldwin makes visceral films with raw and stylized choreography. She works with bold score and an array of artists to reinterpret conventional narrative. She has screened internationally at festivals (Best of SXSW), art fairs (Art Basel Miami), galleries, Lincoln Center and the V&A Museum. She is in development for two feature, LIP and GLASS.
Contact
Public Film Contact
Lily Baldwin and Nicole Disson
EAMS Productions and ND Productions
sleepoverla@gmail.com
646 745 6211
Still