Gypsy
Synopsis
Sebastian is a wealthy young man.
He finds out he has a flat tire and ends up accepting help from a Gypsy passer-by.
In return Sebastian will have to give him a ride home... but they won't reach their expected destination.
Credits
Director: David Bonneville
Executive Producer: Bárbara Valentina
Producer: Fernando Vendrell,
Screenwriter: David Bonneville, Diego Rocha
Cinematographer: Vasco Viana
Editor: Mariana Gaivão
Sound Designer: Tiago de Matos
Music: Buraka Som Sistema
Additional Credits: Costumes: Miguel Bonneville, Sets: Bruno Caldeira, Sound recorder: Adriana Bolito
Principal Cast: Jaime Freitas, Tiago Aldeia
Director Bio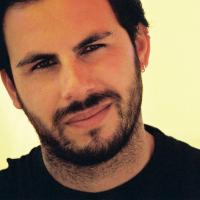 Bonneville kick started his career by assisting centenarian Cannes Palm d'Or winner Manoel de Oliveira, the oldest film director alive. He has also worked at the BBC.
His short "Heiko" won Best Short Award at Copenhagen GL Film Festival. "L'Arc-en-Ciel" won Best Actress Award at the International Portuguese Language Film Festival.
Contact
Distributor: Fernando Vendrell
Public Film Contact
David Bonneville
dbonneville1@gmail.com
+447500058133
Still