Refuge
Synopsis
Set in 2020. Sonia, a young Iranian journalism student and activist, has recently fled to the US to escape persecution and find a better life. But when an escalating cyber-conflict between the US and Iran puts her at risk of deportation, her only way of staying in the country may come at a greater price than she's willing to pay.
Credits
Director: Mohammad Gorjestani
Producer: Malcolm Pullinger,
Screenwriter: Mohammad Gorjestani
Cinematographer: Mike Gioulakis
Editor: Malcolm Pullinger
Production Designer: Matt Thompson
Sound Designer: Jeremy Bowker
Additional Credits: Art Director - Terril Scott: Colorist - Stephen Berke, VFX Supervisor - Eric Peschel: Mixed by Mark Escott
Principal Cast: Nikohl Boosheri, Camyar Chai
Director Bio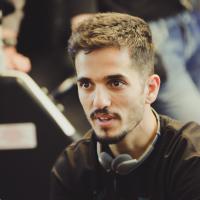 Mohammad Gorjestani is an award-winning Iranian-American filmmaker based in San Francisco. In 2013, he was named to Filmmaker Magazine's 25 New Faces of Independent Film. He was also awarded the KRF Filmmaking Grant from The San Francisco Film Society for his feature length project in development, "Somehow These Days will be Missed".
Contact
Public Film Contact
Malcolm Pullinger
Molecule Films
hello@moleculefilms.com
Still