I'm Not Sorry
Synopsis
A lonely and disturbed man wants nothing more than to fit in and find a partner but his self-loathing and violent tendencies prevent that from becoming a reality.
Surreal and macabre, sad and funny - "I'm Not Sorry" is an unsettling tale about the power of self-image and societal judgements. And one that presents a different view on two classic philosophies:
"I'd never want to join a group that would have someone like me as a member."
and
"You can't blame a dog for being a dog."
Credits
Director: Russell Costanzo
Producer: Melissa B. Miller, Rob Woolsey
Screenwriter: Russell Costanzo
Cinematographer: Rob Woolsey
Editor: Russell Costanzo
Production Designer: Melissa B. Miller
Sound Designer: Denzil Xavier
Music: Denzil Xavier
Additional Credits: Camera Operator: Bernard Hunt, Gaffer: Darrell Day, VFX Supervisor: Doug Purver, Make-up: Sarah Wood
Principal Cast: Clyde Baldo, Christina Calph
Director Bio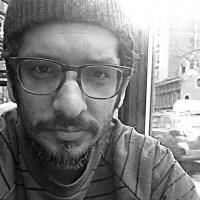 http://www.russellcostanzo.com/me.html
Contact
Public Film Contact
Russell Costanzo
Shoebox Pictures
russell.costanzo@mac.com
9176476707
Still