Eleanor Ambos Interiors
Synopsis
A close-up look at the whimsical life of 86-year-old interior designer Eleanor Ambos. Since her arrival to the U.S. at age 20, Eleanor's strong will and keen eye have transformed her design business into a multi-million dollar empire. Yet at home, this eccentric tycoon's lifestyle is astonishingly simple.
Furnishing the homes of diplomats, remodeling dilapidated properties, and maintaining her own warehouses full of antique furniture, she gives little thought to retirement. But as Eleanor loses her eyesight to macular degeneration, she is forced to reckon with a crumbling structure that even she can't restore.
Credits
Director: Andrew Michael Ellis
Producer: Katrina Sorrentino,
Cinematographer: Andrew Michael Ellis, Katrina Sorrentino, Sasha Arutyunova
Editor: Andrew Michael Ellis
Sound Designer: Jacob Blumberg/Jon Seale
Music: Gabriel Gall
Additional Credits: Additional Cinematography: Sasha Arutyunova, Sound Engineer: Jacob Blumberg, Colorist: Vlad Kucherov, Assistant Editor: Dusty Nakao-Haider, Assistant Editor: Riley Hooper
Director Bio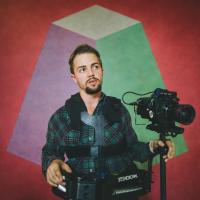 Andrew is a director and cinematographer committed to highlighting injustice through intimate storytelling. His documentary Figure Father grapples with the challenges of reentry from prison, while his latest film, They Came at Night, pairs fiction filmmaking with concrete social advocacy strategy for communities devastated by war in Central Africa.
Contact
Public Film Contact
Katrina Sorrentino
Nomadique
katrina@nomadique.com
7082287085
Still