Font Men
Synopsis
You've never heard of Jonathan Hoefler or Tobias Frere-Jones but you've seen their work. Together they run the most successful and well respected type design studio in the world, making fonts used by the Wall Street Journal to the President of the United States. Font Men, gives a peek behind the curtain into the world of Jonathan and Tobias. Tracking the history of their personal trajectories, sharing the forces that brought them together and giving an exclusive look at the successful empire they've built together.
Credits
Director: Dress Code
Producer: Dress Code,
Cinematographer: Andre Andreev
Editor: Dan Covert
Sound Designer: YouTooCanWoo
Music: YouTooCanWoo
Additional Credits: Animation/Design: Josh Parker, Animation/Design: Emil Bang Lyngbo, Animation/Design: Joe Donaldson, Animation/Design: Evan Anthony
Principal Cast: Jonathan Hoefler, Tobias Frere-Jones
Director Bio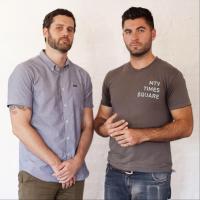 Dress Code is the directing duo of Andre Andreev and Dan Covert. Originally trained as graphic designers, they bring a designers sensibility to their animation and film projects. Based in New York's Lower East Side they lead a team of designers, illustrators, animators, writers and editors to produce animations and films.
Contact
Public Film Contact
Dan Covert
Dress Code
dan@dresscodeny.com
212-260-5979
Still