David Hockney IN THE NOW (in six minutes)
Synopsis
The sexy story of the iconic British artist David Hockney, who is adamant about living life in the now.
Credits
Director: Lucy Walker
Producer: Lucy Walker, Erin Wright, Sabrina Doyle
Cinematographer: Nick Higgins
Editor: Tyler Temple Higgins
Additional Credits: Archival Consultant: Elizabeth Gray, Sound Mixer: Edward Santee
Principal Cast: David Hockney
Director Bio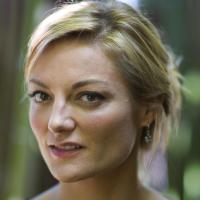 Lucy Walker is a British film director who has twice been nominated for an Academy Award. Her films include The Crash Reel, Waste Land and The Tsunami and the Cherry Blossom. She has been nominated for seven Emmys, and Independent Spirit, Gotham and DGA awards.
Still