Floyd, Darling - "A Lake"
Credits
Director: Alberto Belli
Screenwriter: Clem Darling
Cinematographer: Ilan Levin
Editor: Alberto Belli
Music: Floyd, darling
Additional Credits: Stylist: Kate Kolenda, Make-Up / Hair: Lysette Castellanos
Principal Cast: Alberto Belli, Matt Noonan, John Hudson, Kate Kolenda, Mike Critelli, Nick Luciano, Clem Darling, Juan Pablo Reyes, Tessa Boehm, Joana Dalmida
Director Bio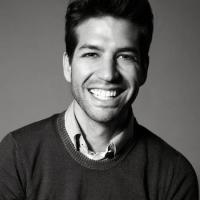 Alberto is a director based in LA. He was born in Mexico to Italian parents. He received his MFA from the USC School of Cinematic Arts. Belli's work has been recognized twice by the EMMYs Foundation. His viral videos, "It's Not Porn. It's HBO" & "For Your Consideration," have garnered mill of views and praise from media outlets around the world.
Contact
Public Film Contact
Alberto Belli
bellialberto@gmail.com
Still