Raffertie - "Build Me Up"
Synopsis
Vincent Haycock's monochrome beauty for London composer/producer Raffertie AKA Bejamin Stefanski is the stirring 'Build Me Up". Shot in the South Central district of Los Angeles, Vince has documented the lives of the three Mays brothers, with their family and friends as co-stars, with outstanding cinematography by Evan Prosofsky.

Vince told Nowness magazine, "One of the aspects I liked most was the idea of turning the breaks in the song's structure into natural pauses for the voice-overs, a musical element was still required here though so I composed some extra music derived from the choral backing vocals."

Raffertie's mused, heartfelt singing adds a personal depth and emotional punch that brings real weight to Vince's masterpiece video. The heaviness and delicacy of the song against the black and white background is a combination that makes "Build Me Up" strikingly original.
Credits
Director: Vincent Haycock
Executive Producer: Tash Tan
Producer: Sarah Park,
Cinematographer: Evan Prosofsky
Director Bio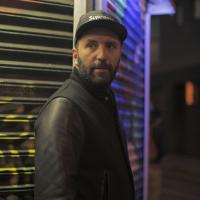 US native Vincent Haycock never fails to inspire with his imaginative and youthful approach as a leading director.
Contact
Public Film Contact
Elly Camisa
elly@somesuchandco.com
+44 (0) 203 487 1270
Still