Alagoas - "Brighton"
Synopsis
"Brighton" is the love story of a young urban couple who abandon their burgeoning careers in order to build a life in community-supported farming. But just as they begin to hit their stride, the grim onset of cancer threatens to topple their dream.
Credits
Director: Jeremiah Zagar
Producer: Jeremy Yaches,
Cinematographer: Jeremiah Zagar
Editor: Khyber Jones
Music: Alagoas
Additional Credits: Additional Photography: Hilary Costa, Additional Photography: Adam Saewitz, Additional Photography: Chris Keener, Additional Photography: Yael Bridge
Principal Cast: Lincoln Fishman, Hilary Costa
Director Bio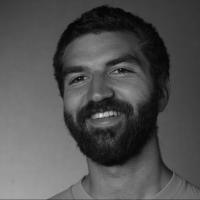 Jeremiah Zagar is the co-founder of Public Record. His newest feature-length documentary CAPTIVATED: The Trials of Pamela Smart, premiered in competition at the Sundance Film Festival and will air on HBO in the fall of 2014. His previous film, In A Dream, screened across the US and in film festivals around the world, winning numerous awards.
Contact
Public Film Contact
Jeremy Yaches
Public Record
info@thepublicrecord.tv
3479873344
Still