Vitalic - "Fade Away"
Synopsis
"Fade Away" is the official music video for electro french artist Vitalic. It follows a manhunt between professional killers, who want to get their hands on a mysterious suitcase. Each killer may be a victim of one of his "colleagues" leading to an endless loop of murders. Very cinematic, the film is a tribute to classic movies such as Goodfellas, Ghost Dog or Pulp Fiction.
Credits
Director: Romain Chassaing
Producer: Nicolas Tiry, Edouard Chassaing, Constance Guillou
Cinematographer: Fabien Benzaquen
Editor: Emilie Orsini
Music: Vitalic
Additional Credits: Gaffer: Clément Melot, Key Grip: Bertrand Val, Sound recorder: Arnaud Marten, Set Designer: Clémentine Nithart, Wardrobe: Agathe Wesolek
Principal Cast: Miglen Mirtchev, Jacky Nercessian, Pascal Decolland, Louise Grinberg, William Nadylam, Jonathan Genet, Paul Hamy, Yohann Pisiou, Emmanuel de Sablet, Kamel Labroudi
Director Bio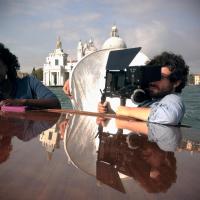 French director who studied graphic design, Romain meets the musical indie scene at university. On his last year, he spends more time with young artists than in classrooms. With these creative encounters, Romain starts designing artwork for record sleeves and directing music videos. He has worked with bands such as Air, Ed Bangers, Anna Calvi...
Contact
Public Film Contact
Nicolas Tiry
Solab
nicolas.tiry@solab.fr
0033173706993
Still