Joel Compass - "Back to Me"
Synopsis
Employing an experimental technique using "cinemagraphs", Ian & Cooper tell a haunting story of a boy trying to bring his father back to life in Joel Compass's "Back to Me". Akin to an "animated GIF", the actors were filmed frozen in live action, rotoscoped out, and overlaid with a still image resulting in a subtly animated and eerily beautiful moving image
Credits
Director: Ian and Cooper
Executive Producer: Candice Ouaknine
Producer: Nathan Scherrer,
Cinematographer: Patrick Scola
Editor: Cooper Roberts
Production Designer: Ali Rubinfeld
Additional Credits: VFX: Ian & Cooper, Colorist: Pat McElroy @ Glowgun, Commissioner: Dilly Gent
Principal Cast: Nicholas Neve, Jim Tavare, Veronica Bloom, Gene Alexander
Director Bio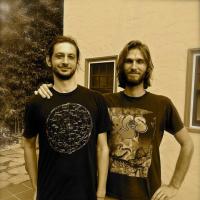 Ian and Cooper are cousins who teamed up getting bowl haircuts at age 10. Since, they took their own paths in film. Ian was a staff writer at PRETTYBIRD, while Cooper made docs about rock climbing. They knew a future collaboration would fare better than the haircuts, so when the opportunity to direct together arose, they took it.
Contact
Public Film Contact
Lizzy DeVan
PRETTYBIRD
co.assistant@prettybirdus.com
3103158700
Still