Nekrogoblikon - "No One Survives"
Synopsis
John wants what every man wants. The Promotion, The Girl, The Recognition. There's only one problem: HE'S A GOBLIN!
Credits
Director: Brandon Dermer
Producer: Melissa Marin, Sarah Charmoli
Screenwriter: Brandon Dermer
Cinematographer: Cody Jacobs
Editor: Andrew Wilsak
Production Designer: Scott P. Murphy
Sound Designer: Dan Kenyon
Music: Nekrogoblikon
Additional Credits: Special Effects: Mark Villalobos, First AD: Cassie Laymon, Co-Producer: Annie Hirshmann, Costume Design: Jess Jeanne, Hair and Make-Up: Alicia Mizrahi Siller
Principal Cast: David Rispoli, Tyler Dawson, Kayden Kross, Jon Lajoie, Eduardo M. Velazquez, Johnny Love, Scott May, Carles Torrens, Dane White, Cameron Klippsten
Director Bio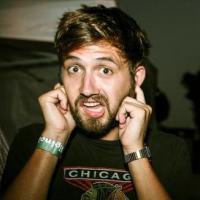 Brandon graduated from Columbia College Chicago. After moving to LA, he received acclaim for creating a bizarre fake trailer. He's since written & directed narrative music videos that received praise from Vimeo, Huffington Post, BloodyDisgusting, and Pitchfork. Last year Brandon branched out into the commercial, TV, and feature space.
Contact
Public Film Contact
Ari Lubet
alubet@3arts.com
(310) 888-3200
Still