Passion Pit - "Cry Like A Ghost"
Synopsis
DANIELS crafted a narrative surrounding one girl's self-destructive behavior. Torn between lovers and in danger of spiraling out of control, the directors invented a visual language to augment her story by employing a combination of dance, hidden edits and complex staging the video seems to blur the boundaries of time and space and seems in danger of spinning out of control itself.
Credits
Director: DANIELS
Executive Producer: Candice Ouaknine
Producer: Jonathan Wang,
Cinematographer: Larkin Seiple
Editor: DANIELS
Production Designer: Jason Kisvarday
Additional Credits: VFX: Jeff Desom, Commissioner: Saul Levitz
Principal Cast: Tallie Medel, Danny Dolan, Wes Scarpias, Ben Sloane
Director Bio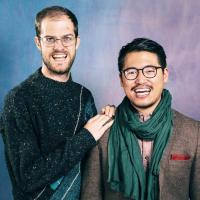 DANIELS is comprised of two guys named Daniel. Daniel grew up in Massachusetts, began working in animation and graphics, when all of a sudden he met Daniel. Daniel is from Alabama and comes from a comedy and theatre background. Together they are an unpredictable everything team.
Contact
Public Film Contact
Lizzy DeVan
PRETTYBIRD
co.assistant@prettybirdus.com
310.315.8700
Still