Dog Food
Synopsis
When Declan loses his dog and best friend, Ralphie, his life starts to unravel.
Credits
Director: Brian Crano
Executive Producer: Max Hurwitz, David Craig
Producer: Michael Klein,
Screenwriter: Brian Crano
Cinematographer: Adam Bricker
Editor: Matthew Friedman
Production Designer: Tim Rossiter
Sound Designer: Luis Galdames
Additional Credits: Costumes: Elizabeth Guilliams
Principal Cast: Cory Michael Smith, Amanda Seyfried, David Craig, Axel B. Crano
Director Bio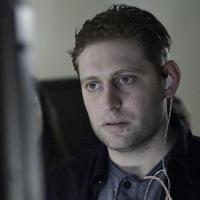 A BAG OF HAMMERS Crano's first feature film premiered at the 2011 SXSW Film Festival. The film was released by MPI in the spring of 2012 and is now viewable on Netflix. Shorts include: RUBBERHEART and OFFICIAL SELECTION, as well as web series SIMPLY PLIMPTON.
Contact
Public Film Contact
Michael Klein
Paper Trail
michaelscottklein@gmail.com
973 477 9152
Still