Wawd Ahp
Synopsis
A man raps in the mirror, cuts his head off, and has sex with it. There is also a cartoon.
Credits
Director: Steve Girard, Josh Chertoff
Cinematographer: Alfredo Alcantara
Music: John Albano
Additional Credits: James Herron: Zach Kuperstein, Isa Alcantara: Jaclyn Gramigna
Principal Cast: Steve Girard
Director Bio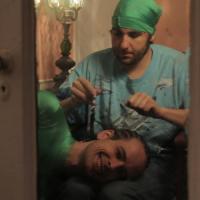 Steve Girard enjoys drawing. Steve's parents, although divorced, paid for Steve to study film and TV at NYU. Steve is writing a love story about skiers.
Josh Chertoff is a filmmaker whose credits include TV, film, music video, and commercial work. He's currently directing a documentary about Mexican cockfighters.
Contact
Public Film Contact
Steve
Still