Kekasih
Synopsis
Mansor extracts the remains of his late wife only to discover her presence forever illuminated in the divine. Like a bird that sings to a flower and a flower that blooms to a singing bird, Rozita and Mansor continue to remain in a harmony of mutual devotion.
Credits
Director: Diffan Sina Norman
Producer: Diffan Sina Norman,
Screenwriter: Diffan Sina Norman
Cinematographer: Aaron Chung
Editor: Diffan Sina Norman
Production Designer: Dennis Teh
Sound Designer: Dominic Bisignano, Nathan Ruyle
Music: Dominic Bisignano
Additional Credits: Associate Producer: Edwin Raj: Assistant Director: Arzuan Annuar
Principal Cast: Nasir Bilan Khan, Fauziah Nawi
Director Bio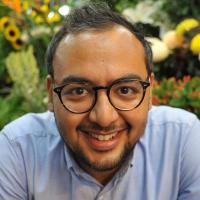 Diffan Sina Norman is a Kuala Lumpur born Los Angeles based multi-disciplinary artist, filmmaker and designer. His diverse body of work has featured at ResFest, The 27th Clermont Ferrand Int. Short Film Fest and The National Art Gallery of Malaysia. "Kekasih" was made with an awarding grant from The National Film Development Corp. Malaysia.
Contact
Public Film Contact
Diffan Sina Norman
diffan@gmail.com
Still