Kids and Explosions - Swear Words
Synopsis
Inspired by GIF, this video clip is about the clichés of american antagonisms :
Christian thought, homeland love and excesses of the USA.
Credits
Director: Thomas Vernay, Yann Wallaert
Producer: Cumulus,
Editor: Thomas Vernay
Music: Kids and Explosions - Swear words
Additional Credits: Graphic Artist: Mattis Dovier
Director Bio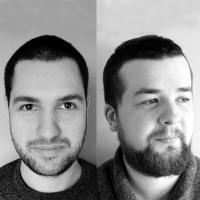 Thomas Vernay and Yann Wallaert are two french artistic directors who founded the design studio Cumulus.
They try to use the music video as a medium that would allow artistic experimentation.
Contact
Public Film Contact
Thomas Vernay
Cumulus
contact@cumulus-collectif.com
Still