One Armed Man
Synopsis
CW Rowe has it all. He owns the cotton gin, making him the wealthiest man in Harrison, Texas, and his ascendance has solidified an unshakeable belief in the system that enriched him. Confident in his deserved success, CW is partial to lecturing anyone he feels will benefit from his advice. Few things ever interrupt the purity of his vision, with the exception of the weekly visit of a young man, Ned, who lost an arm in the gin's machinery. Ned is a little touched and believes CW can give him his arm back. On a normal day, he goes away when CW offers him five dollars, but today is anything but a normal day.
Credits
Director: Tim Guinee
Executive Producer: Philip Seymour Hoffman
Producer: Hallie Foote, Tim Guinee, Bruno Michels
Screenwriter: Horton Foote
Cinematographer: David Tumblety
Editor: James Stanger
Production Designer: Jesika Farkas
Sound Designer: Matt Haasch
Music: Mike and Ruthy
Additional Credits: Sound Recordist: Jean-Yves Munch, Associate Producer, 1st AD: Rex Camphuis, Line Producer: Ruben Garcia, Script Supervisor: Emily Carragher, Costume Designer: Ingrid Price
Principal Cast: Charles Haid as C.W. Rowe, Terry Kinney as Pinkey, John Magaro as Ned, Philippe Petit as The Itinerant Worker, Mike Merenda as Banjo Man, Carson Kinney as The Machine Room Boy
Director Bio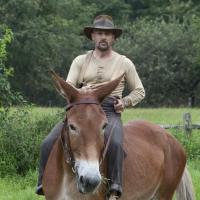 Raised in Houston, One Armed Man is Tim Guinee's directorial debut. As an actor he has appeared in over 200 roles on stage, television and films, including roles in Sweet Land, Iron Man 1 & 2, Promised Land, Personal Velocity, Synecdoche-New York, and Once Around. He reoccurs on tv's Homeland, The Good Wife, and the Austin-based Revolution.
Contact
Public Film Contact
Tim Guinee
CorneliusGuin@gmail.com
Still