Evaporating Borders
Synopsis
"Evaporating Borders" is a visual essay in five parts guided by filmmaker's curious eye and personal reflections. Through the people she encounters along the way, the film dissects the experience of asylum seekers in Cyprus : A PLO activist and exile from Iraq is denied asylum within 15 minutes; neo-nazi fundamentalists roam the streets in an attack on Muslim migrants; activists and academics organize an antifascist rally and clash with the neo-nazis; 195 migrants drown in the Mediterranean. Poetically photographed and rendered, the film passionately weaves the themes of tolerance, identity and belonging.
Credits
Director: Iva Radivojevic
Executive Producer: Laura Poitras
Producer: Landon Van Soest, Leandros Savvides, Alex Primas (Co-Producer)
Screenwriter: Iva Radivojevic
Cinematographer: Iva Radivojevic
Editor: Iva Radivojevic
Sound Designer: John Moros
Music: Alexander Berne, Stian Westerhus, Sandy Brour, Monsieur Doumani
Additional Credits: Consulting Editor: Jay Rabinowitz, Colorist: Begonia Colomar, Additional Camera: Giorgos Ioannou
Director Bio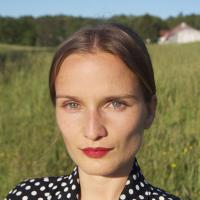 Iva Radivojevic is a NYC based filmmaker who explores themes of identity, migration and immigrants. Her films have screened at various venues including Rotterdam, HotDocs, PBS, Documentary Channel and were published by the New York Times Op-Docs. Iva was named one of 25 New Faces of Independent Film of 2013 by Filmmaker Magazine.
Still