Obvious Child
Synopsis
"Obvious Child" is an honest comedy about what happens when Brooklyn comedian Donna Stern (Jenny Slate) gets dumped, fired and pregnant just in time for the worst/best Valentine's Day of her life. Forever nudged by her parents to make better choices, Donna's forced to do just that when a one-night stand leads to a difficult decision that does and does not define the rest of her life. Though confident in her choice, Donna must gain the confidence to believe in her talent, herself, and the best in those around her, especially one surprisingly decent guy who just might make this the worst/best Valentine's Day ever.
Credits
Director: Gillian Robespierre
Executive Producer: Stefan Nowicki, Michael Sackler, Julia Godzinskaya, Sophie Vickers, Brent Stiefel, Jenny Slate, David Kaplan, Gillian Robespierre
Producer: Elisabeth Holm,
Screenwriter: Gillian Robespierre
Cinematographer: Chris Teague
Editor: Casey Brooks
Production Designer: Sara K White
Sound Designer: Mark Corbin
Music: Chris Bordeaux
Additional Credits: Co-Producer: Joey Carey
Principal Cast: Jenny Slate, Jake Lacy, Gaby Hoffmann, Gabe Liedman, David Cross, Polly Draper, Richard Kind
Director Bio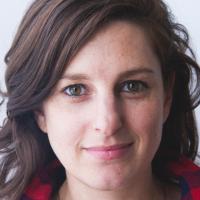 GILLIAN ROBESPIERRE has written and directed several short films including "Chunk" (2006), "Obvious Child" (2009). Since penning the feature, OBVIOUS CHILD has been supported by IFP, Tribeca All Access, the San Francisco Film Society, and Rooftop Films. Gillian is a New Yorker who graduated from the School of Visual Arts' Film & Video Program.
Contact
Distributor: A24
Public Film Contact
Jeanie Igoe
A24
jeanie@a24films.com
646-568-6015
Still