Wild Canaries
Synopsis
Barri and Noah, a newly engaged Brooklyn couple, are disheartened by the death of their elderly downstairs neighbor, Sylvia. Though Noah sees nothing unusual about the old woman's death, Barri suspects foul play and sets out to investigate, enlisting her roommate Jean to join her on a reconnaissance mission to trail a possible suspect. Tensions mount, however, when the investigation uncovers unsettling secrets throughout the building—including in their own apartment—and suddenly everyone seems like a reasonable suspect. "Wild Canaries" is a freshly comedic take on classic film noir.
Credits
Director: Lawrence Michael Levine
Executive Producer: Andrew Corkin
Producer: Sophia Takal, Kim Sherman, E. McCabe Walsh
Screenwriter: Lawrence Michael Levine
Cinematographer: Mark Schwartzbard
Editor: Sofi Marshall
Production Designer: Adam Brustein
Sound Designer: Gene Park
Music: Michael Montes
Principal Cast: Sophia Takal, Lawrence Michael Levine, Alia Shawkat, Annie Parisse, Jason Ritter, Kevin Corrigan
Director Bio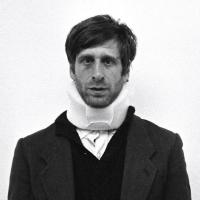 Lawrence Levine is the award-winning writer, director and star of the critically acclaimed feature film, GABI ON THE ROOF IN JULY. Lawrence also produced and starred in Sophia Takal's GREEN (SXSW '11). WILD CANARIES is his third feature as a writer/director.
Contact
Sales Agent: Cinetic Media
Public Film Contact
Adam Kersh
Brigade Marketing
adam@brigademarketing.com
646.862.3122
Still