We'll Never Have Paris
Synopsis
We'll Never Have Paris is a clumsy and at once human account of screwing up on a transcontinental level in a noble effort to win back "the one.
Credits
Director: Jocelyn Towne, Simon Helberg
Executive Producer: Marc Platt, Daniel Wagner
Producer: Katie Mustard, Robert Ogden Barnum
Screenwriter: Simon Helberg
Cinematographer: Polly Morgan
Editor: Mollie Goldstein
Production Designer: Alex Schaller
Sound Designer: Steve Giammaria
Music: Alexis Marsh, Samuel Jones
Additional Credits: Executive Producer: Judd Rubin, Executive Producer: Rodney Baty
Principal Cast: Simon Helberg, Maggie Grace, Melanie Lynskey, Alfred Molina, Zachary Quinto, Jason Ritter
Director Bio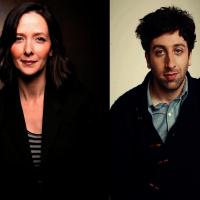 This is Simon Helberg's directorial debut. He stars on The Big Bang Theory, and studied theater at NYU's Tisch School of the Arts with the Atlantic Theater Company. WNHP is Jocelyn Towne's second feature. Her first, "I Am I," premiered at the Newport Beach Film Festival in 2013, where she won "Outstanding Achievement in Directing."
Contact
Sales Agent: K5 & UTA
Public Film Contact
UTA
UTA
(310) 273-6700
Still