Things People Do
Synopsis
In "Things People Do", Bill Scanlin loses his job and, unable to tell his wife Susan for fear of losing his family, embarks on a life of crime. He befriends a detective, Frank, who has chosen to uphold the law for a living but believes very little in its value. Ruby, the first stranger to show him kindness, inspires Bill to commit a crime in her honor, and he starts to enjoy his new-found power. As Bill stays ahead of the law, he discovers that sometimes the only thing worse than getting caught is getting away with it.
Credits
Director: Saar Klein
Executive Producer: Nicolas Gonda, Michael Macs, Ryan Rettig, Kurt Billick, David Klein, Doug Liman
Producer: Sarah Green, Hans Graffunder, Christos V. Konstantakopoulos
Screenwriter: Joe Conway, Saar Klein
Cinematographer: Matthias Koenigswieser
Editor: Hank Corwin, Saar Klein
Production Designer: Chad Keith
Sound Designer: Thomas O'Neill Younkman and Martin Hernandez
Music: Marc Streitenfeld
Principal Cast: Wes Bentley, Jason Isaacs, Vinessa Shaw, Haley Bennett
Director Bio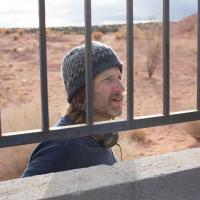 Saar Klein is a two-time Oscar nominee for his work editing Terrence Malick's THE THIN RED LINE and Cameron Crowe's ALMOST FAMOUS. He worked on Doug Liman's JUMPER, THE BOURNE IDENTITY, FAIR GAME, Malick's THE NEW WORLD and THE TREE OF LIFE, and Oliver Stone's U-TURN. Saar has written and directed two short films.
Contact
Sales Agent: John Sloss and Linzee Troubh w/Cinetic Media
Public Film Contact
John Sloss and Linzee Troubh
Cinetic Media
john@cineticmedia.com
2126279898
Still