The Mule
Synopsis
It's 1983. A naive man with lethal narcotics hidden in his stomach is detained by Australian Federal Police. Alone and afraid, 'the Mule' makes a desperate choice; to defy his bodily functions and withhold the evidence...literally. And by doing so becomes a 'human time-bomb'; dragging cops, criminals and concerned family into his impossible escapade. Inspired by true events, THE MULE is directed by Angus Sampson and Tony Mahony, with a darkly comic screenplay by Sampson, Leigh Whannell (Saw, Insidious), and Jaime Browne. The film stars Hugo Weaving alongside Sampson and Whannell with an ensemble cast including Ewen Leslie, Geoff Morrell, Georgina Haig, Noni Hazlehurst and John Noble.
Credits
Director: Angus Sampson, Tony Mahony
Executive Producer: Michele Bennett, Leigh Whannell, David Griffiths, Angus Coupland, Troy Lum, Bryce Menzies
Producer: Angus Sampson, Jane Liscombe
Screenwriter: Leigh Whannell, Angus Sampson
Cinematographer: Stefan Duscio
Editor: Andy Canny
Production Designer: Paddy Reardon
Music: Mikey Young, Cornel Wilczek
Additional Credits: Story by: Jaime Browne
Principal Cast: Hugo Weaving, Angus Sampson, Leigh Whannell, Ewen Leslie, Geoff Morrell, Georgina Haig, Noni Hazlehurst, John Noble
Director Bio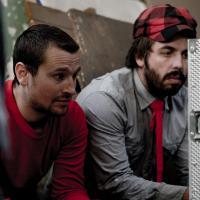 One of Australia's most diverse actors with a body of work including Mad Max:Fury Road, Where The Wild Things Are and Insidious, Angus served as Producer/Co-Writer/Co-Director/Actor for THE MULE with close friend/collaborator Leigh Whannell.
Australian TV, music video and short filmmaker, Tony Mahony is co-director of THE MULE, his debut feature.
Contact
Sales Agent: eOne Films International/Les Films Séville
Public Film Contact
Anick Poirier
eOne Films International/Les Films Séville
internationalsales@entonegroup.com
514.878.2282
Still