The Infinite Man
Synopsis
Dean is an inventive yet unorthodox scientist who uses his technical expertise to create grand romantic gestures for his girlfriend Lana. After an anniversary weekend goes terribly wrong, a guilt-ridden Dean is spurred to his greatest scientific achievement yet: the invention of time travel. However, what begins as a simple desire to change the past and create the perfect weekend soon leads to a tightening spiral of multiple "Deans", each one in competition with the next. And any attempts at romantic reconciliation are further complicated when Dean loses Lana in a recurring temporal loop, and must overcome his many selves in order to save her.
Credits
Director: Hugh Sullivan
Executive Producer: Jonathan Page, Cameron Rogers
Producer: Kate Croser, Sandy Cameron
Screenwriter: Hugh Sullivan
Cinematographer: Marden Dean
Editor: Hugh Sullivan
Production Designer: Obie O'Brien
Sound Designer: Jed Palmer
Music: Jed Palmer, Zoë Barry
Principal Cast: Josh McConville, Hannah Marshall, Alex Dimitriades
Director Bio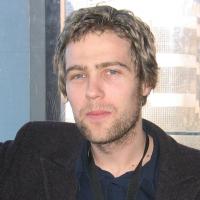 Hugh Sullivan is a writer and director whose work has screened at international festivals. Hugh has been the recipient of the Spirit of Youth Award - Moving Pictures, been nominated for an Australian Directors Guild Award and shortlisted for the EFilm IF Award for Rising Talent. THE INFINITE MAN is his first feature film.
Contact
Sales Agent: Shoreline Entertainment
Public Film Contact
Kate Croser
Hedone Productions
kate@hedone.com.au
+61 403439413
Still