The Guest
Synopsis
David is the perfect guest. Friendly and helpful, this young soldier arrives on the doorstep of the Peterson family, claiming to be a good friend of their beloved son who died in action. The Petersons welcome David into their home and into their lives, but when people start mysteriously dying in town, their teenage daughter Anna starts wondering if David is responsible.
Credits
Director: Adam Wingard
Executive Producer: Simon Barrett, Thorsten Schumacher
Producer: Jess Calder, Keith Calder
Screenwriter: Simon Barrett
Cinematographer: Robby Baumgartner
Editor: Adam Wingard
Production Designer: Tom Hammock
Sound Designer: Jeffrey A. Pitts
Music: Stephen Moore
Additional Credits: Co-Producer: Chris Harding
Principal Cast: Dan Stevens, Maika Monroe, Leland Orser, Lance Reddick, Sheila Kelley, Brendan Meyer, Chase Williamson
Director Bio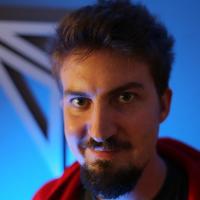 Wingard"s A Horrible Way to Die premiered at the 2010 Toronto International Film Festival and was acquired by Anchor Bay. Wingard's home-invasion thriller You're Next premiered at TIFF in 2011, was acquired by Lionsgate. At the 2012 and 2013 Sundance Film Festivals, Wingard directed segments for V/H/S and V/H/S/2.
Contact
Sales Agent: CAA
Public Film Contact
Chris Harding
Snoot Entertainment
charding@snoot.com
3239370808
Still