The Desert
Synopsis
Axel, Jonathan and Ana live together in a house that seems like a bunker in a post-catastrophic world. Outside is a threatening landscape. Once they were a perfect love triangle, with strong bonds of friendship, but today nothing is left of it. Ana is with Jonathan and Axel is alone, bit by bit tattooing his body with flies. But everything changes when Axel and Jonathan go out on an expedition in search of provisions and return to the house with a zombie that they call Pythagoras.
Credits
Director: Christoph Behl
Executive Producer: Tomás Lipgot
Producer: Subterránea Films,
Screenwriter: Christoph Behl
Cinematographer: Gustavo Biazzi
Editor: Fernando Vega
Sound Designer: Hernán Gerard
Principal Cast: Victoria Almeida, William Prociuk, Lautaro Delgado
Director Bio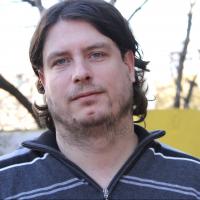 Christoph Behl was born in 1974 in Germany. His credits as director include "Public / Private", (Special Mention of the Jury at the Berlinale 2003), "Someone on the terrace", (Special Mention of the Jury to Best Latin American young Director at Mar del Plata Film Festival 2005) and "Fortresses".
Contact
Public Film Contact
Christoph Behl
Suterranea Films
subterraneafilms@googlemail.com
54911.58158281
Still