Starry Eyes
Synopsis
Determined to make it as an actress in Hollywood, Sarah Walker spends her days working a dead-end job, enduring petty friendships and going on countless casting calls in hopes of catching her big break.
After a series of strange auditions, Sarah lands the leading role in a new film from a mysterious production company. But with this opportunity comes bizarre ramifications that will transform her both mentally and physically into something beautiful... and all together terrifying.
From the producer of "Cheap Thrills" and "Jodorowsky's Dune," Dennis Widmyer & Kevin Kolsch's "Starry Eyes" is an occult tale of ambition, possession, and the true cost of fame.
Credits
Director: Dennis Widmyer, Kevin Kolsch
Executive Producer: Malik Ali, Bade Ali, Hamza Ali, Greg Newman, John Jarzemsky, Aaron B. Koontz, Gena Wilbur, Giles Daoust
Producer: Travis Stevens,
Screenwriter: Dennis Widmyer, Kevin Kolsch
Cinematographer: Adam Bricker
Production Designer: Melisa Jusufi
Sound Designer: TBD
Music: TBD
Principal Cast: Alexandra Essoe, Amanda Fuller, Fabianne Therese, Noah Segan, Shane Coffey, Natalie Castillo, Pat Healy, Marc Senter, Maria Olsen, Lou Dezseran
Director Bio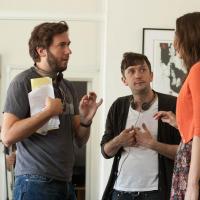 Dennis Widmyer and Kevin Kölsch are a duo of award winning filmmakers. The two have directed three feature-length projects; a documentary on writer Chuck Palahniuk, 'Absence,' and 2013's 'Starry Eyes.' In 2011, their short film 'Curtain' placed at multiple festivals including Fantastic Fest, Cinequest and Telluride.
Contact
Sales Agent: MPI / Dark Sky Films
Public Film Contact
Travis Stevens
Snowfort Pictures, Inc.
snowfortpictures@gmail.com
3238392723
Still