Print the Legend
Synopsis
3D printing is changing the world – from printing guns and human organs to dismantling the world's industrial infrastructure by enabling home manufacturing. It's "the next Industrial Revolution."
For the first time in history, the stories of the human beings building an industry have been filmed. The result: "Print the Legend", which follows the people racing to bring 3D printing to your desktop and into your life. For the winners, there are fortunes – and history – to be made.
"Print the Legend" is both the definitive 3D Printing Documentary – capturing a tech in the midst of its "Macintosh Moment" – and a compelling tale about what it takes to live the American Dream in any field.
Credits
Director: Luis Lopez, Clay Tweel
Executive Producer: Walter Kortschak, Mary Rohlich
Producer: Produced by: Steven Klein, Producers: Seth Gordon, Dan O'Meara, Chad Troutwine, Co-Producer: Andrew Kortschak
Screenwriter: Steven Klein, Luis Lopez, Clay Tweel
Cinematographer: Luis Lopez, Clay Tweel
Editor: Luis Lopez, Clay Tweel
Music: Noah Wall
Principal Cast: Bre Pettis, Maxim Lobovsky, Avi Reichental, Cody Wilson, Chris Anderson, David Cranor, Natan Linder, Jenny Lawton
Director Bio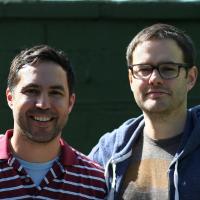 Luis Lopez hails from Tijuana and loves tacos. Clay Tweel is from Charlottesville and loves whiskey. Among other credits, they share THE KING OF KONG (Clay & Luis: editor, shooter, and associate producer) and MAKE BELIEVE (Clay: director and editor, Luis: editor and co-producer), which won the grand jury prize at the LA Film Fest in 2010.
Contact
Sales Agent: Liesl Copland at WME
Public Film Contact
RJ Millard
Obscured Pictures
rj@obscuredpictures.com
917-693-2869
Still