Our Vinyl Weighs A Ton (This Is Stones Throw Records)
Synopsis
"Our Vinyl Weighs A Ton" is a feature-length documentary about avant-garde Los Angeles-based record label Stones Throw Records. Under the direction of founder and world-renowned DJ Peanut Butter Wolf, Stones Throw has consistently released critically acclaimed, left-of-center albums since its founding in 1996. Drawing on live concert footage, never-before-seen archival material, inner-circle home video and photographs and in-depth interviews with the folks who put Stones Throw on the map, "Our Vinyl Weighs A Ton" delves deeper into the label's enigmatic artists, history, culture and global following. Among those featured in the film are Kanye West, Common, Mike D, Questlove and Snoop Dogg.
Credits
Director: Jeff Broadway
Executive Producer: Jason McGuire
Producer: Jeff Broadway,
Screenwriter: Jeff Broadway, Rob Bralver
Cinematographer: Jordan Haro, Isaac Sterling, Sebastien Bauer
Editor: Rob Bralver
Sound Designer: Sound Brigade
Music: Madlib
Additional Credits: Co-Producer: Rob Bralver, Co-Producer: Sebastien Bauer, Co-Producer: Lucas Blaya, Motion Graphics: Opiyo Okeyo, Animation: Rory Gamble & Kay Reghabi
Principal Cast: Peanut Butter Wolf, DOOM, Madlib, Dam-Funk, Kanye West, Common, Mike D, Snoop Dogg, Tyler, The Creator, Questlove
Director Bio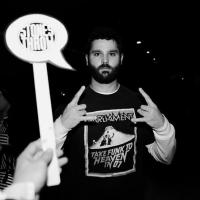 While pursuing his master's in Global Media & Communication at the London School of Economics and USC, Jeff Broadway co-founded Gatling Pictures and produced his first film – Cure For Pain: The Mark Sandman Story. Broadway then went on to direct Godspeed Taiwan and Our Vinyl Weighs A Ton. He is 27 years old and resides in Los Angeles.
Contact
Distributor: SYNDCTD Entertainment
Public Film Contact
Jeff Broadway
Gatling Pictures
jfb@gatlingpictures.com
2134477294
Still