Oculus
Synopsis
10 years ago tragedy struck, leaving the lives of siblings Tim and Kaylie forever changed when Tim was convicted of the murder of their parents. Now in his 20s, Tim is released from protective custody and wants to move on with his life, but Kaylie is convinced that their deaths were caused by a malevolent supernatural force unleashed through the Lasser Glass, an antique mirror in their childhood home. Determined to prove Tim's innocence, Kaylie locates the mirror, only to learn similar deaths have befallen previous owners. With the mysterious entity back in their hands, they find their hold on reality shattered by terrifying hallucinations and realize that their nightmare is beginning again.
Credits
Director: Mike Flanagan
Executive Producer: Ryan Kavanaugh, Tucker Tooley, Jason Blum, Michael Luisi, Anil Kurian, D. Scott Lumpkin, Peter Schlessel, Dale Johnson
Producer: Trevor Macy, Marc D. Evans
Screenwriter: Mike Flanagan, Jeff Howard
Cinematographer: Michael Fimognari
Editor: Mike Flanagan
Production Designer: Russell Barnes
Sound Designer: Marti D. Humphrey
Music: The Newton Brothers
Principal Cast: Karen Gillan, Brenton Thwaites, Rory Cochrane, James Lafferty, Katee Sackhoff
Director Bio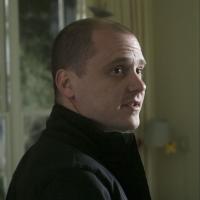 Mike Flanagan was born in Salem, MA and is a graduate of Towson University. In 2005, he shot "Oculus," an applauded short film, and in 2011 cemented his reputation as a promising horror director with the critically-acclaimed feature "Absentia." His full-length adaptation of "Oculus" featured this year at SXSW will hit the big screen in spring 2014.
Contact
Distributor: Relativity Media
Still