Kelly & Cal
Synopsis
Punk-rocker turned suburban mom, Kelly, is nostalgic for a life she can no longer have and uncertain of a future she doesn't yet fit in. Seventeen-year-old Cal is frustrated at his lack of control over the hand he's been dealt. When the two strike up an unlikely friendship, it's the perfect spark needed to thrust them both back to life.
Credits
Director: Jen McGowan
Executive Producer: Ishay Mor, Eran Heyman, Iris Heyman, Hezi Bezalel
Producer: Mandy Tagger-Brockey, Adi Ezroni
Screenwriter: Amy Lowe Starbin
Cinematographer: Philip Lott
Editor: David Hopper
Production Designer: Natasha Gerasimova
Sound Designer: Brian Langman
Music: Toby Chu
Additional Credits: Co-Producer: Ged Dickersin
Principal Cast: Juliette Lewis, Jonny Weston, Josh Hopkins, Cybil Shepherd
Director Bio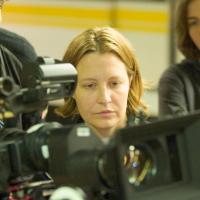 Jen McGowan studied directing in the MFA program at USC. Her thesis, CONFESSIONS OF A LATE BLOOMER, premiered at Tribeca. Her next film TOUCH premiered & won the Oscar-qualifying Florida Film Festival. Her feature, KELLY & CAL, stars Juliette Lewis, Jonny Weston, Cybill Shepherd & Josh Hopkins. Her next, MILLIE TO THE MOON, is in development.
Contact
Sales Agent: Jessica Lacy, ICM
Public Film Contact
Grant Derkac
ICM
GDerkac@icmpartners.com
310-550-4440
Still