Impossible Light
Synopsis
On March 5th, 2013, San Francisco's skyline was transformed by an amazing sight: 25,000 LED lights that, for perhaps the first time save the 1989 earthquake, caused people to consider the Bay Bridge instead of her iconic sister. How did this happen? Who was behind the eight-million-dollar installation? How in the world did they pull it off? The story behind the making of THE BAY LIGHTS—a project whose very "impossibility made it possible"—answers these questions, revealing the drama and the daring of artist Leo Villareal and a small team of visionaries who battle seemingly impossible challenges to turn a dream of creating the world's largest LED light sculpture into a glimmering reality.
Credits
Director: Jeremy Ambers
Executive Producer: Jeremy Ambers, Nerissa Ambers
Producer: Jeremy Ambers,
Screenwriter: Jeremy Ambers
Editor: Jeremy Ambers
Production Designer: N/A
Sound Designer: Christopher Russomanno
Music: Kevin T. Doyle
Additional Credits: Associate Producer: Lawrence McGovern, Consulting Story Director: Kathi Wheater, Consulting Story Director: Regan Souders
Principal Cast: Leo Villareal, Ben Davis, Amy Critchett, Saeed Shahmirzai, Dorka Keehn, Timothy Childs, Gian Pablo Villamil, Jason Cipriani, JoAnne Northrup, Donald MacDonald
Director Bio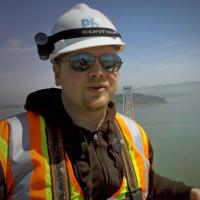 Jeremy Ambers is a San Francisco-based documentary filmmaker, assistant editor for Who Gets to Call It Art? (2005), and editor/producer of Under Four Trees (2014). An editor and producer of television programming and corporate video, he was also senior editor/ post production supervisor for HouseSmarts (2006–2009), nationally syndicated on NBC.
Contact
Public Film Contact
Jeremy Ambers
Mission Rock Pictures
jeremyambers@gmail.com
201-725-3868
Still