Fort Tilden
Synopsis
Amidst quarter-life crises, Allie struggles to prepare for the Peace Corps, while Harper awaits checks from her father to fund her artistic dreams. But the two friends quickly shun responsibilities for the day when a pair of good-looking guys invites them along for a carefree Fort Tilden afternoon. As the two young women board their bikes and embark on a lengthy journey to the beach, they quickly realize that, akin to their confusing, transitioning lives, they neither know where they're going nor how they plan to get there.
The debut feature film of directors Sarah-Violet Bliss and Charles Rogers, "Fort Tilden" is a hilariously insightful look at the consequences of extended adolescence.
Credits
Director: Sarah-Violet Bliss, Charles Rogers
Producer: Mollye Asher, Geoff Mansfield
Screenwriter: Sarah-Violet Bliss, Charles Rogers
Cinematographer: Brian Lannin
Editor: Sarah-Violet Bliss
Production Designer: Katrina Whalen
Sound Designer: David Forshee
Principal Cast: Bridey Elliott, Clare McNulty, Griffin Newman, Jeffrey Scaperrotta, Neil Casey, Alysia Reiner, Will Hines, Peter Vack, Max Jenkins, John Early
Director Bio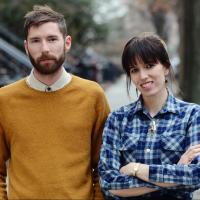 Sarah-Violet Bliss and Charles Rogers are filmmakers based in Brooklyn who met at NYU Graduate Film school. They have each written and directed award-winning short films that have screened at festivals such as Telluride, Sarasota, and Aspen Shortsfest. Fort Tilden was conceived and produced last summer and is their first collaboration.
Contact
Sales Agent: Submarine Entertainment
Public Film Contact
Adam Kersh
Brigade Marketing
adam@brigademarketing.com
646.862.3122
Still