Doc of the Dead
Synopsis
Brought to the screen by the creators of the hit doc "The People vs. George Lucas," "Doc of the Dead" delves deep into the evolution of the zombie genre in film and literature, as well as its impact and influence on pop culture, to deliver a comprehensive, fast-paced, highly entertaining look at a contemporary social pandemic of global proportions.
"Doc of the Dead" hosts a rich and entertaining dialogue with zombie authors, filmmakers and scholars, and features a host of zombie icons (Max Brooks, George A. Romero, Simon Pegg, Robert Kirkman, Bruce Campbell, and many more!)
Credits
Director: Alexandre O. Philippe
Executive Producer: Michael Ruggiero
Producer: Kerry Deignan Roy, Robert Muratore
Cinematographer: Robert Muratore
Editor: Chad Herschberger
Additional Credits: Co-Producer: Jonathan London, Co-Producer: Georg Kallert, Co-Producer: Shannon Muchow
Principal Cast: George A. Romero, Simon Pegg, Bruce Campbell, Max Brooks, Robert Kirkman, Charlie Adlard, Stuart Gordon, Greg Nicotero, Tom Savini, John Russo
Director Bio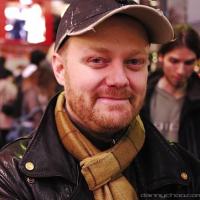 Alexandre O. Philippe is the director of several acclaimed feature-length documentaries about our global pop culture, including The People vs. George Lucas (SXSW 2010), Earthlings, and The Life and Times of Paul the Psychic Octopus.
Contact
Distributor: EPiX
Sales Agent: The Film Sales Company (jason.ishikawa@filmsalescorp.com)
Public Film Contact
Kerry Deignan Roy
Exhibit A Pictures
kerry@exhibitapictures.com
303.886.1605
Still